Live Life in a Postcard.
Bid farewell to worry and stress as you embark on a journey to the San Juan Islands . . . and embrace the laid-back island vibe, a consistently mild climate, and leisurely hours spent just the way you desire. Anticipate temperatures hovering around 70° in summer and 40° in winter. The islands benefit from a harmonious blend of weather systems, contributing to the notably high air quality experienced throughout the San Juans.
San Juan County comprises 172 named islands and reefs, yet the four ferry-served Islands—San Juan Island (housing the county seat Friday Harbor), Orcas Island, Lopez Island, and Shaw Island—stand as the most densely populated. They offer the majority of accommodation, dining options, and tourism activities. So take a deep breath, settle in (keeping it casual is the norm on these islands, from attire to the warm greetings you'll encounter). Relax—now you're on "island time."

Friday Harbor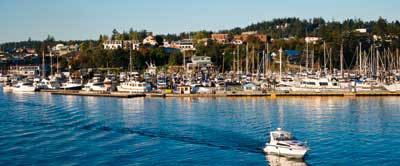 San Juan Island, the second-largest island in the county at 55.3 square miles, continues to hold its significance as the economic, cultural, and social hub of the region. Friday Harbor, serving as the county seat, has a population of just over 8,600 residents and remains one of the few remaining fishing villages in Puget Sound that retains much of its century-old charm.
Shaped by ancient glaciers that defined the entire island chain, San Juan Island stands out as one of the most diverse in terms of its terrain and ambiance. The island boasts ranch and pasture lands within three interior valleys, offering picturesque views of wooded hills or lakes. Mt. Dallas, Young Hill to the north, and Mt. Finlayson in the south form prominent peaks, while the island's southern border features open grassy hillsides descending to an expansive beach area.
The West Side of San Juan Island remains renowned for whale-watching opportunities and stunning vistas of Victoria, Vancouver Island, the Olympic Peninsula, and bustling marine traffic destined for Seattle, Vancouver, or Alaska.
Regarding real estate, San Juan Island encompasses 6,176 parcels, with approximately 20% (1,268 parcels) situated along the waterfront. Properties available for purchase vary widely, from a $200,000 manufactured home to a $8,950,000 waterfront home (data per NWMLS 2022-2023).
The history of the San Juan Islands, particularly San Juan Island itself, retains its historical significance. The island was a focal point of dispute between the British and Americans over ownership. The delineation of the 49th Parallel as the Unites States/Canadian border in 1846 did not address the intricacies of the San Juan Archipelago. British claims clashed with American settlers who began homesteading in the San Juans. The famous Pig War ignited when an American shot a British-owned boar found rooting in his potato garden, leading to heightened tensions. The British established a camp on the north end of San Juan Island, and the Americans did the same on the south end. These historic camps remain as National Historic Parks, drawing tens of thousands of visitors annually. 
Roche Harbor Village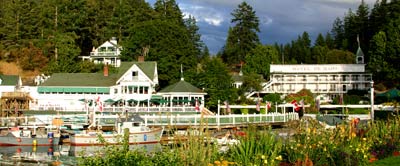 The quaint seaside village of Roche Harbor is on the National Register of Historical Sites. In 1881, two brothers bought Roche Harbor and started the islands' lime industry. Home to the famous Hotel de Haro, this lovely landmark was built in 1886 by John S. McMillan and named for Gonzales Lopez de Haro, an early Spanish explorer.
In 1906, President Theodore Roosevelt stayed in room 2A while visiting McMillan, his long time friend and the hotel's owner. Roosevelt's room is one that to this day, you can still stay in and is called, appropriately, the Presidential Suite. In the Hotel Lobby is a register bearing the President's signature from a 1907 visit here. In 1975, when the road in front of the hotel was paved, the yellow pavers used are actually the fire bricks which lined kilns one through eight. Many more were recycled from a couple of rusty kilns dismantled in 2004 and are used in the paving of the village core parking.
During many summer evenings, a crowd gathers at the flag pavilion to watch Roche Harbor's own Colors Ceremony, a tradition passed down since the 1950s from former owner, Reuben Tarte.
Orcas Island
From the summit of Mount Constitution, which stands at 2,400 feet as the highest peak in the San Juan Islands, one can behold a panoramic view encompassing Orcas Island and nearly all the other islands within San Juan County. East Sound, a majestic fjord sculpted by ancient glaciers during the last major Ice Age, stands as the largest fjord in the contiguous 48 states, resembling the breathtaking landscapes found in Norway or Alaska.
Established in 1921 by the esteemed shipbuilder Robert Moran, Moran State Park spans across 5,252 acres. Nestled within this expansive park is Mount Constitution, home to a 52-foot stone observation tower fashioned after the 12th-century watchtowers of Russia's Caucasus Mountains. The opulent Rosario Resort, once the private estate of Robert Moran and his family, graced the same grounds during that era.
Presently, Orcas Island is inhabited by over 6,000 residents who cherish the island's rural essence, distinguishing it as the largest within the archipelago. Among the 5,369 land parcels on Orcas, a mere 22%—equivalent to 1,163 parcels—are waterfront properties, and just 61% of all parcels have been developed or improved.
At the heart of the island lies the welcoming village of Eastsound, featuring schools, shops, and a newly established senior center.
Before the introduction of irrigation east of the Cascade Mountains, Orcas, San Juan, and Lopez Islands collectively formed the primary apple and pear cultivation region in the state of Washington. While vestiges of the old orchards still linger on many properties, most of the fruit is now either locally consumed or distributed through the island's farmers' markets.
Lopez Island
The San Juans were shaped over many centuries by the force of glaciers, which meticulously smoothed Lopez Island into what early settlers esteemed as ideal pasture and arable land. Due to the absence of towering hills that typically ensnare rain clouds, Lopez stands as the driest among the San Juan Islands.
Approximately 2,200 inhabitants reside on the expansive nearly 30 square miles of Lopez Island. A modest population of fewer than 200 individuals calls Lopez Village home. Lopez comprises a total of 3,311 land parcels, with 1,019 properties positioned along the waterfront, and 1,950 parcels classified as developed.
While San Juan and Orcas Islands cater to pleasure boaters, Lopez Island holds greater appeal for cyclists and local equestrians. Extensive stretches of relatively level rural roads, graced by some of the most courteous drivers globally, render Lopez an idyllic paradise for bicyclists.
Lopezians are often described as notably friendly, marked by a distinct gesture—drivers have honed a subtle wave from their steering wheels, extending this courtesy to both locals and visitors. Lopez remains a steadfast bastion of values rooted in family farming. Many islanders sustain their livelihoods through small-scale farms, with a majority adhering to organic principles. During the summer, a bustling farmer's market showcases this abundance for sale.
Similar to San Juan and Orcas Islands, Lopez Island boasts exceptional schools, an outstanding library, and a robust communal spirit. Embodying a tranquil rhythm reminiscent of bygone eras, it stands as an extraordinary place for residence, retaining a sense of peaceful living.
Shaw Island
Described as a realm of serenity, Shaw Island, spanning around 5,000 acres, stands as the most diminutive among the islands serviced by Washington State ferries. Approximately 188 individuals inhabit 96 households within this highly secluded and tightly-knit ferry-served community.
Shaw Island is notably recognized for the presence of two groups of Catholic nuns. The Benedictines at Our Lady of the Rock oversee a substantial farm, vending numerous handmade and homegrown products. The island's historical significance is further underscored by its past as the home of numerous Coast Salish Indians, and ongoing archaeological investigations aim to locate their ancient village sites.
During the 1700s, Shaw Island hosted nearly 750 indigenous inhabitants, yet their population dwindled due to diseases introduced by European settlers. Additionally, the more aggressive Haida Indians conducted raids, leading to the death or kidnapping of many. While some of the Salish individuals chose to remain on the islands, a few Salish women formed unions with American and British settlers.
The island's roadways predominantly traverse inland areas, offering limited vistas of the water and surrounding islands. Of the 518 parcels on Shaw Island, 228 are situated along the waterfront, and 263 of these parcels have been developed or improved.
Public amenities on Shaw Island are scarce, with just one park—South Beach County Park. Apart from a general store, the island features a charming little schoolhouse nestled in lush surroundings and a small post office. Notably absent are medical facilities, restaurants, or hotels. Embracing a natural seclusion, Shaw Island exudes a quiet and private atmosphere, reflecting the preferences of its residents.
Outer Islands
Brown Island, more commonly known as Friday Island, forms the main protection for Friday Harbor. All the marine traffic going to Friday Harbor must come around this island. Therefore, in the summer it is the most active spot in the entire archipelago. Brown Island has community docks on the island and over in Friday Harbor. There is also a water taxi that runs back and forth.
This was the first development in the San Juan Islands to have extensive self-imposed environmental restrictions, thanks to Sam Buck and his partners in the development. There are only waterfront homes and lots here. Cars are not allowed. Of the total 58 lots on Brown Island, just 12 are still unimproved.
During Prohibition, several wagonloads of illegal hooch were seized from Brown Island and placed for safekeeping in the county jail in Friday Harbor. Six cases were subsequently stolen from the jail which is likely one of the few recorded instances of someone breaking into a jail. To learn more about this and other historical tidbits briefly described in this publication, read The Pig War Islands by Richardson.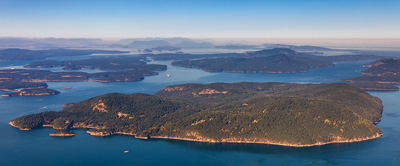 Blakely Island is the namesake of Johnston Blakely, a U.S. naval commander in the War of 1812. It is also known as the Flying Island because many of its residents are pilots with homes adjacent to the airport. They simply taxi right up their driveways and park. Blakely covers seven square miles and holds a total of 276 parcels – 119 are waterfront and only 142 are considered improved.
Blakely Island has forested slopes, two good sized lakes, a 100 foot high waterfall, deep shores and a few beaches. There is a small marina with fuel and temporary moorage. There is also a private airport and roads, but only for the use of owners and guests.
Several islands around Blakely are part of the San Juan Islands National Wildlife Refuge. About a quarter of Blakely was donated to Seattle Pacific University to be used in its natural state for biological and environmental research and education.
Blakely's first permanent settler, E.C. Gillette, was also Justice of the Peace during the Pig War era (1860), San Juan's first surveyor, and pioneer of San Juan's lime industry. He sold out in 1889 to Richard Straub, who subsequently was convicted of a gruesome murder scheme over a dispute with some neighbors.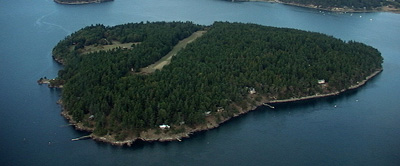 Center Island is a 178-acre private island just a short distance from Anacortes, nestled between Decatur and Lopez Islands. Residents and visitors alike enjoy sheltered waters for moorage and mild temperatures. There are mostly summer vacation homes here, however a small number of residents live on Center year round, including full time caretakers. A total of 199 parcels exist on Center Island, with 74 waterfront and 63 un-improved. Facilities include a new clubhouse, community picnic areas, a community dock and a place to pull small boats out of the water and put them on land. There is also daily mail service and a private 1600 foot airstrip.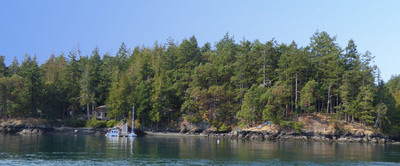 Crane Island, with 222 acres and 84 parcels (59 of which are waterfront and 46 of the total are improved), is the largest and most developed of the Wasp Islands group, lying between Orcas and Shaw Islands. It is one of the more easily accessible islands being very near to Orcas Island and is within relatively protected waters. It has community docks on both Crane and Orcas and a private airstrip. Interestingly there are no cranes on the island. There is however, an abundance of herons which look very similar when not in flight. It is quite possible that Richards (the surveyor for the British Admiralty) saw some herons and thought they were cranes, hence the name.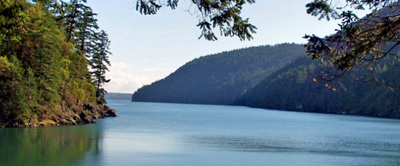 By some resources, Cypress Island is actually the fourth largest island in the San Juan Islands and is one of the San Juan Islands not in San Juan County. (It's part of Skagit County.) This four and one half mile long island is mostly public land managed by the Washington Department of Natural Resources. It has tall stands of old growth forest, (there is relatively little old growth left in the islands), 25 miles of hiking trails, campsites, beaches, mooring buoys, outhouses, small lakes, wildlife, rugged scenery and beautiful views. There's no drinking water though.
And there are no cypress trees on this island. In 1792, William Broughton, a lieutenant for Captain George Vancouver during his discovery of the islands, named it Cypress after trees on the island that looked like cypress to him, but they are actually Rocky Mountain junipers.
Broughton, unaccustomed to maneuvering a ship with the local challenge of winds, tides, rocks and reefs all at the same time, lost an anchor off of Cypress that even after great effort, he could not pull free. It is supposedly still there.
Coastal Salish tribes lived here during the summers long ago and many archaeological sites have been identified.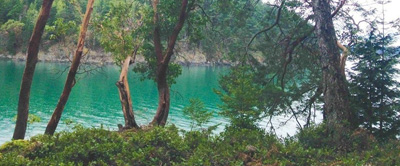 Decatur Island is named after Stephen Decatur, a famous U.S. naval officer during the war of 1812. Sixty or so people live on Decatur Island year-round and many more seasonally. There are 459 parcels with just 107 of them along the waterfront and only 228 parcels considered to be improved.
The island has a small store (with a B&B above), post office, grade school, boat launch, airport and small shipyard. Miles of scenic county roads are open to the public, however the lands are all private and beaches are not easily accessed. There are various good spots for anchorage around the island.
Decatur Head is on the east side of the island. It was once a separate little island, but the action of wind and waves over centuries of time built up the sand neck so that it now joins into Decatur Island. That geological formation is called a tombolo.
There is the awful and unfortunate story of a shooting involving a man known as John Kay, who squatted at Davis Bay. His old cottage later became part of the Frank Henderson summer camp for boys and the tale of the shooting has been told around many a beach campfire. The old Kay cabin is still livable and used to house the Henderson camp's caretaker.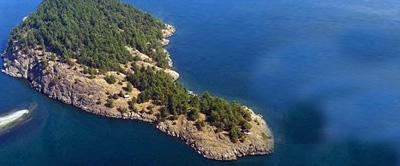 Frost Island lies beside Spencer Spit State Park. Its uplands are all privately owned and there are a small number of private residences. Of the 17 parcels on Frost, 14 are waterfront, plus 9 are improved.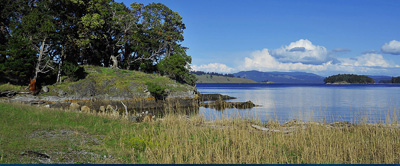 Henry Island is named for Lt. Charles Wilkes' nephew, Wilkes Henry, who served as a midshipman on the Wilkes Expedition. Along with a shipmate, Henry was killed by Fijians during the expedition's exploration of that area and was buried on an island not far from where he was slain. Wilkes' reasoning for choosing an island in a northern Pacific archipelago as his namesake is unclear, other than that Henry was the only son of Wilkes' widowed sister. Shaped like an 'H' and located just west of San Juan Island's Roche Harbor, it protects several bays in that general area. There is good fishing and whale watching off its south and west shores. A total of 191 parcels are in place, 178 along the waterfront and 114 considered improved. Its land parcels are privately owned, apart from about 80 acres on the southwest side that are part of a lighthouse reservation. However the shoreline at the lighthouse is steep and rocky, making landings hazardous.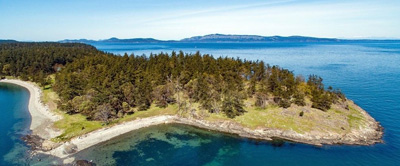 Almost like a piece of a puzzle, 132-acre Johns Island lies immediately east of Stuart Island. It is a little more than a mile long and has a mixture of rocky bluffs and pristine beaches. The land is privately held and there are no public facilities. A total of 69 parcels exist on Johns Island with 60 of those on the waterfront, 46 of the total parcels are improved.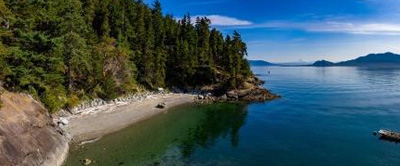 Obstruction Island is located between Orcas and Blakely Islands. It too, is a privately held island with a mixture of rocky shores and pebble beaches.
There are a small number of residences and no public access. It is comprised of 49 parcels, all along the waterfront, and 27 are improved.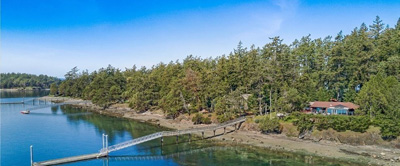 Pearl Island is located just off the shores of San Juan Island on the outskirts of Roche Harbor and helps protect the resort area from northerly winds. It is small and flat with 44-all waterfront parcels, 36 are improved. One side faces south overseeing the activity of Roche Harbor, the other faces north with broad views of the outer islands. There's a wonderful little story about a bride to be, (Mary Smith), who waited on Pearl Island while her husband to be, (Ed Chevalier), walked the nine mile wooded trail to Friday Harbor in order to get a minister to marry them.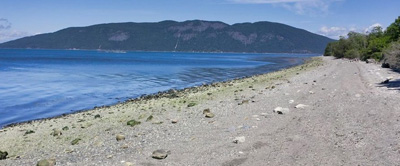 Sinclair Island was named by the Wilkes Expedition of 1841 for Arthur Sinclair, a U.S. naval captain during the war of 1812. This mostly private island is just north of Cypress Island on the outer edge of the San Juan Islands. Like Cypress Island, Sinclair is part of the San Juan Islands, but not in San Juan County. There is a county dock on the southwest end of Sinclair along with a small village called "Urban". Two thirds of a mile from Urban, on Sinclair's dirt roads, is the Sinclair Island Natural Wildlife Area, encompassing 35 acres with beachfront. Combining the beachfront with interior roads, you can spend quiet hours walking within public lands.
A large portion of Sinclair was once owned by a man and wife with the last name of Kelly. (He actually kept the property in his wife's name for devious purposes). Kelly was a notorious smuggler of various interests including Chinese people and opium. His property on the northwest shore allowed him expansive views helping him keep an eye on customs vessels.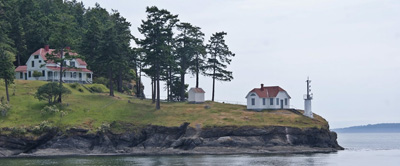 Stuart Island has a population of about 40 people which reside there year-round and many more joining them during the summer months. It rests up along the Canadian border, near the Gulf Islands, 3.5 miles north of Roche Harbor. It encompasses 1,786 acres and has shorelines that range from steep rock faces to protected coves with beach. It also has a private airport. The island has 360 parcels with nearly one half (176) waterfront and 161 parcels considered to be improved.
Stuart has perhaps the most interesting school in the State, including a classic one-room school house built in 1902 that is now used as the library for the more recently constructed but still one room school house adjacent to it. It is one of the last American schools without electricity or flush toilets. In the old days, children from nearby islands would row over to Stuart and then hike over to the school.
Stuart Island Marine State Park, off the southeast side, encompasses 88 acres including over 4,000 feet of waterfront within Reid and Prevost Harbors. Those harbors often provide shelter for boats traveling to and from Canada. There are state park docks, mooring buoys, basic campsites and picnic areas, but no other facilities.
There is much history to be learned about Stuart Island, including its historic cemetery and lighthouse. A classic example of the unique lifestyle preserved in the San Juans is Reef Netting – a fishing method developed by ancestors to the Lummi Indians of the San Juans which is used primarily for sockeye and humpback salmon. The only place in the world this type of fishing is used, it remains an effective technique for the San Juans with their clear water and long, shallow reefs. Current residents of San Juan Island, who still commercially fish today, are descendants of local Indian tribes that used to reef-net off of Reid Harbor many generations ago.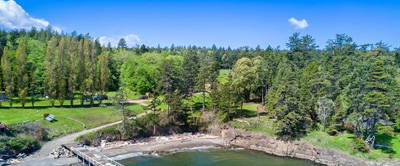 Waldron Island holds a mixture of beautiful long beaches, high cliffs and rocky medium banked shoreline, depending on which side of the island you're on. There is also a mixture of personalities from those who want complete privacy to those who welcome visitors. With a total of 283 parcels, 126 are waterfront and 152 are improved. It is a very self-sufficient island and has no community water, electricity or land line phone, as is true with most outer islands. The fact is, most outer islanders prefer it this way and once you have experienced it, you can understand why.
Waldron is near the west side of Orcas Island and has close to 100 year round residents. Public access is very limited. This island has no stores or facilities other than a county dock with a few abandoned buildings nearby. There are county roads, but most of the land is private. It has a small post office, grade school, cemetery and landing strip.
478-acre nature preserve with 4,000 feet of shoreline is located here. It was fostered by Waldron residents who wanted to preserve it in its natural state and is now managed by the Nature Conservancy and the San Juan Preservation Trust. Point Disney, the location of the island's only commercial activity was once a sandstone quarry in operation during the early 1900s. Today it is a popular dive site with its sheer walls delving far under water providing a home to an abundance of sea life.